Growth
Ideas, thoughts and feelings seem to sometimes emerge fully formed, but what does the first spark of an idea feel or look like? How does a feeling surface? How many times do we overlook our intuition? Currently offered in 8″ and 10″ rounds, this series offers a playful look at gestating ideas and feelings as they try to break through the daily noise of our lives.
---
Occasional Tables
Generously sized tabletops are approximately 18″ diameter and the bases are 22″ tall. All designs are offered as one-of-a-kind pieces. Multiples may be ordered- due to the nature of the process, designs will vary slightly.
---
Warm Glass Mosaics

The abstract designs are created by temporarily adhering small glass elements to a clear glass base in order to sift finely ground glass powder between them, creating the illusion of grout. The assembly is fired to created a glossy mosaic composition. Sizes range from 12″ to 18″ round.
---
Rainforest Abstracts
Featuring lush saturated colors, these tiles are composed of two separate layers of warm glass mosaic designs to evoke the depth and richness of the tropical climate.
---
Hold That Thought
A series of 8″ tiles representing the idea of thought bubbles. They pass by like clouds and briefly catch your attention as you go about your daily activities. The tiles are mounted on painted and framed 12″ hardwood panels.
---
Serenity
Designed with simplicity and balance in mind, each tile in the series features hand crafted decorative elements applied on top of striped bases in harmonious colors. Flush mounted on hardwood panels, they ready to hang individually or in groupings.
---
Synergy
Synergy is defined as the interaction of two or more substances to produce a combined effect greater than the sum of their separate parts. The word embodies my concept of the world- elements and substances constantly evolving and rearranging themselves continually creating a new whole greater than its parts. These rounds are 7″ in diameter, custom sizes up to 18″ diameter may also be commissioned.
---
Little Gems
These diminutive tiles, just 4″ square pack a big visual impact for their size. Like their namesakes, the little gems glow with color and are fascinating to study. Mounted on acid etched glass and archival paper, they sit within a 6″ anodized aluminum frame.
---
The Four Elements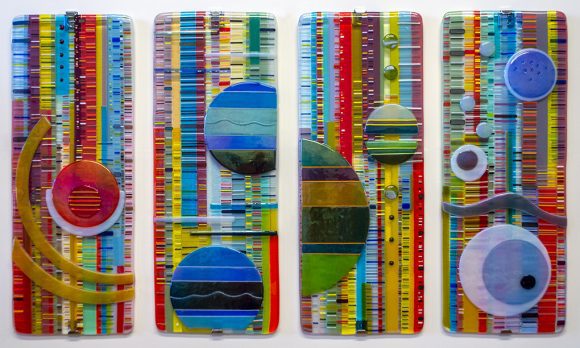 Representing fire, water, earth and air, the panels in this series are created with many hundreds of glass pieces. Each color you see is a separate piece of glass and they are fused onto a separate layer of varied colors of glass strips.
---